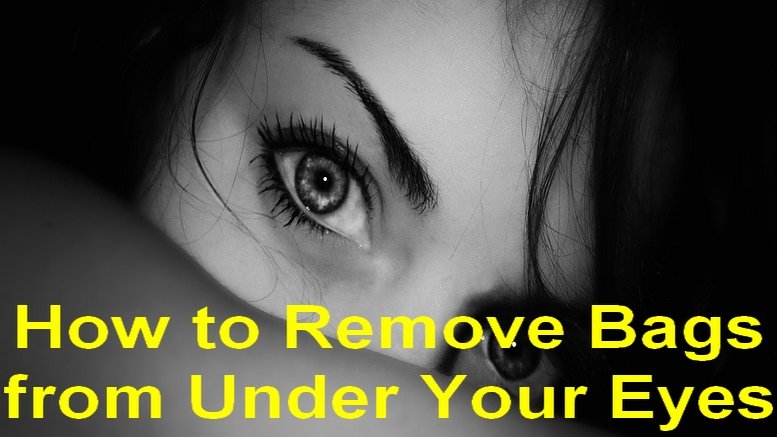 How to Get Rid of Eye Bags Permanently: Let's face it, eye bag removal is something that is usually on everyone's mind at one point or another as the clock of time ticks on.
As we get older, our skin becomes less firm and elastic (due to the breakdown of collagen and elastin proteins) which makes it easier for unwanted aging signs like eye bags, dark eye circles, wrinkles, and fine lines to form and become visible.
There's no way to actually STOP the overall aging process. But there are options available that can slow down the skin aging process and allow you to enjoy your youthful and healthy skin for many more years.
How to Get Rid of Eye Bags Permanently
Some options of treatment for eye bags are most drastic than others, and some are certainly more expensive.
It's really up to you (and your doctor) to figure out which eye bag removal treatment is right for you.
Nonetheless, let's discuss the various ways to get rid of eye bags so you can be aware of all the different options out there….
Eye Bag Removal Options
*Cosmetic surgery – this is obviously one of the more drastic treatment options, and also the option that produces the fastest results.
This kind of procedure will actually remove the fat molecules that accumulate under the eye , and then the skin would be lifted and tightened.
It's quite the invasive procedure, but many people have experienced great results with it.
However, you better be ready to shell out some cash; cosmetic surgeries can cost anywhere from $5,000 to $10,000, and there are by no means permanent.
*Botox injections – if you do not want to be "put under the knife" so to speak, you can opt to get injections of Botox under the eye.
This will temporarily tighten and firm up the skin under the eye for about 6 to 9 months, so regular visits to your doctor are needed to prolong the results.
As far as eye bag removal cost is concerned, Botox injections costs thousands of dollars each visit.
Common side effects of Botox injections include swelling, headache, respiratory infections, temporary eyelid droop, nausea and flu-like symptoms.
What's the Secret to Removing Eye Bags?
*Home eye bad remedies – many people still resort to using natural home remedies as treatment for eye bags.
However, these are really more for eye puffiness and swelling.
Under eye bags are caused by fat accumulation, fluid leakage, and reduction in skin firmness and elasticity.
Things like cucumber slices, tea bags, egg whites, and potato slices can provide short, temporary solutions.
But they are by no means a long-lasting treatment for eye bags.
Either way though, it's better than nothing!
*Eye bag concealers – although we do not recommend it, there's always the option of hiding eye bags with makeup or a concealer.
They can surely reduce the appearance of eye bags and puffiness, but don't get caught in a rainstorm without an umbrella!
The way I see it, why would you spend all that money on an under eye concealer when you can spend that same amount of money on non surgical eye bag removal products that can actually IMPROVE the structure of your skin.
And do you really want to be reminded each and every morning that you have unsightly eye bags when you look in the mirror?
*Topical skin care products – for those who want to stay as far away as possible from surgical treatments for eye bags. Applying a topical skin care product can produce great results.
However, you have to make sure you get the right type of cream or lotion.
Overall design is important; the best under eye creams are made with ingredients that are small enough in size to actually penetrate through multiple layers of skin.
Being made with all-natural substances is important as well, especially when it comes so safety.
The last thing you want to do is apply a product around the eyes made with harsh synthetic ingredients!
The Ideal Under Eye Treatment for Eye Bag Removal
Homeopathic skin care solutions are not only safe, they are highly compatible with our natural oils and moisturizers, allowing them to be easily accepted by the skin.
But in order to successfully get rid of eye bags using topical skin care products, you need to get one that is designed properly – with combating the major causes of aging in mind.
When looking for an under eye cream for getting rid of bags under the eyes, make sure it contains ingredients that do a few key things:
Improve drainage from the tissues under the eye
Reduce capillary fragility to reduce leakage into the skin
Reduce skin slackening (thinning)
Increase skin firmness and elasticity by stimulating more collagen and elastin protein production